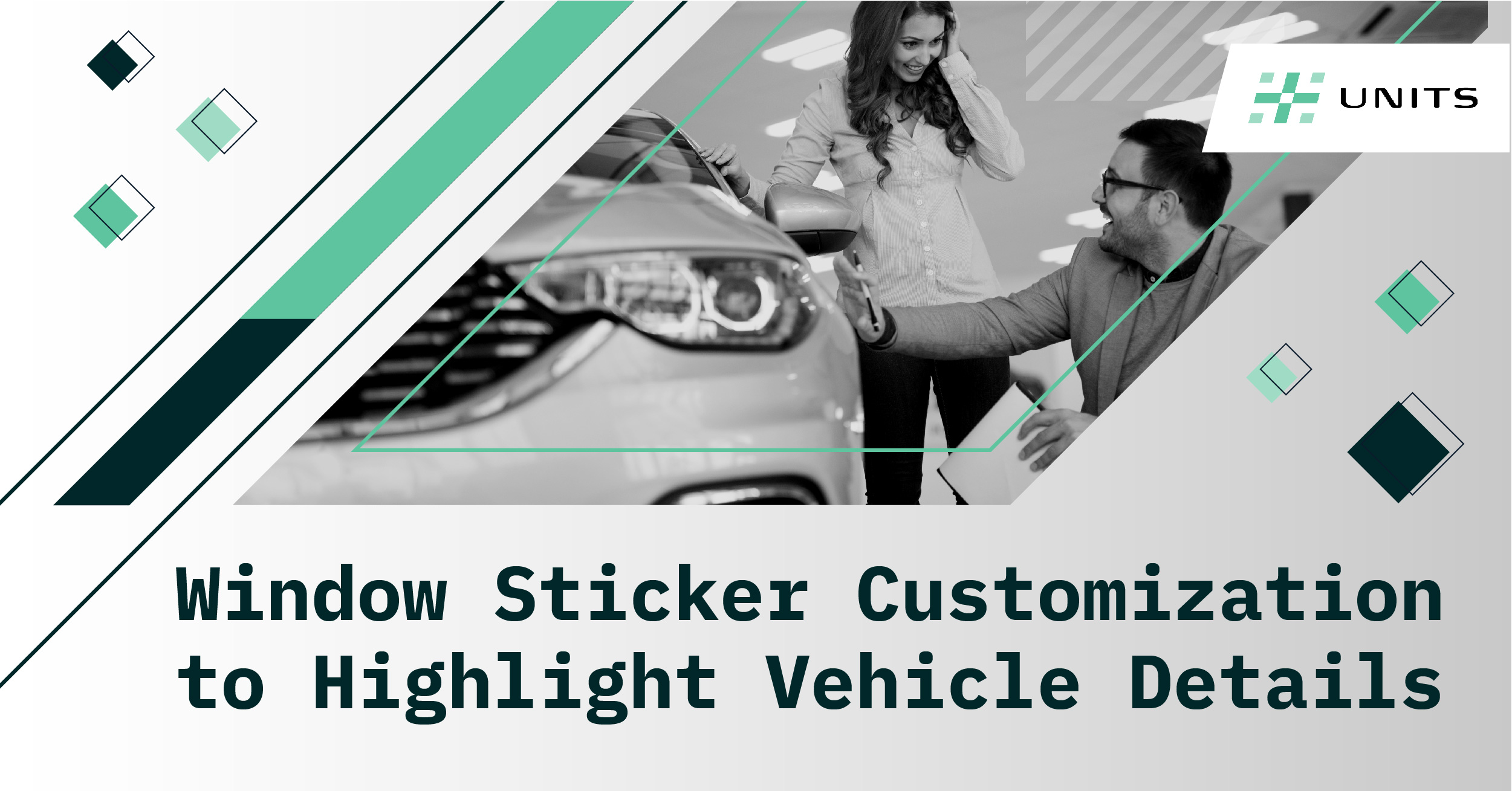 Provide up-to-date information on your vehicles and highlight how you are dedicated to keeping customers safe. Window stickers can do both, showing customers the vehicle details they need to make their buying decision as well as displaying your cleaning process and guidelines.
Window Sticker Customization with Units
With the Units inventory management system, dealers can create custom window stickers for vehicle inventory. Window stickers typically offer vehicle details, specs, and other information. However, they can be customized to add warranty options, certified information (as applicable), and other installed options on the vehicle.
Dealers can now also add information to Units for window stickers on how each vehicle has been cleaned and sterilized. Offer your buyers the confidence of a safe experience at your dealership with details on your processes and protocols.
Window stickers from Units can also include options like a pricing stack, showing customers a full explanation of the final price of the vehicle. You may also include additional savings that customers might qualify for under certain conditions, per vehicle. Discounts and rebates will be visible on the sticker and in the vehicle disclaimer as well, ensuring that dealers stay compliant.
Advantages of Customizable Window Stickers and Buyer's Guides
Providing customers with as much information as possible is going to be the future of the automotive business. Dealers should take advantage of available avenues to offer up information on their inventory. Window stickers and buyer's guides have been around for many years and it has become automatic to look at them when viewing a vehicle. Customers know they can find reliable information from vehicle window stickers, so why not give them what they are looking for?
Units also gives dealers the ability to add QR codes to window stickers so that when scanned, customers can  be brought directly to the VDP of the vehicle they are considering. You can even set up the QR code to direct customers to your digital retailing tool so the buying process can be started right there on their smartphone!
Additionally, Units  provides dealers with FTC compliant buyer's guides (we have information for all U.S. states). Information can be added to your window stickers, such as warranty details, whether full or partial.
To check out examples of custom window stickers or a full demo of the Units IMS, get in touch with a member of our team.