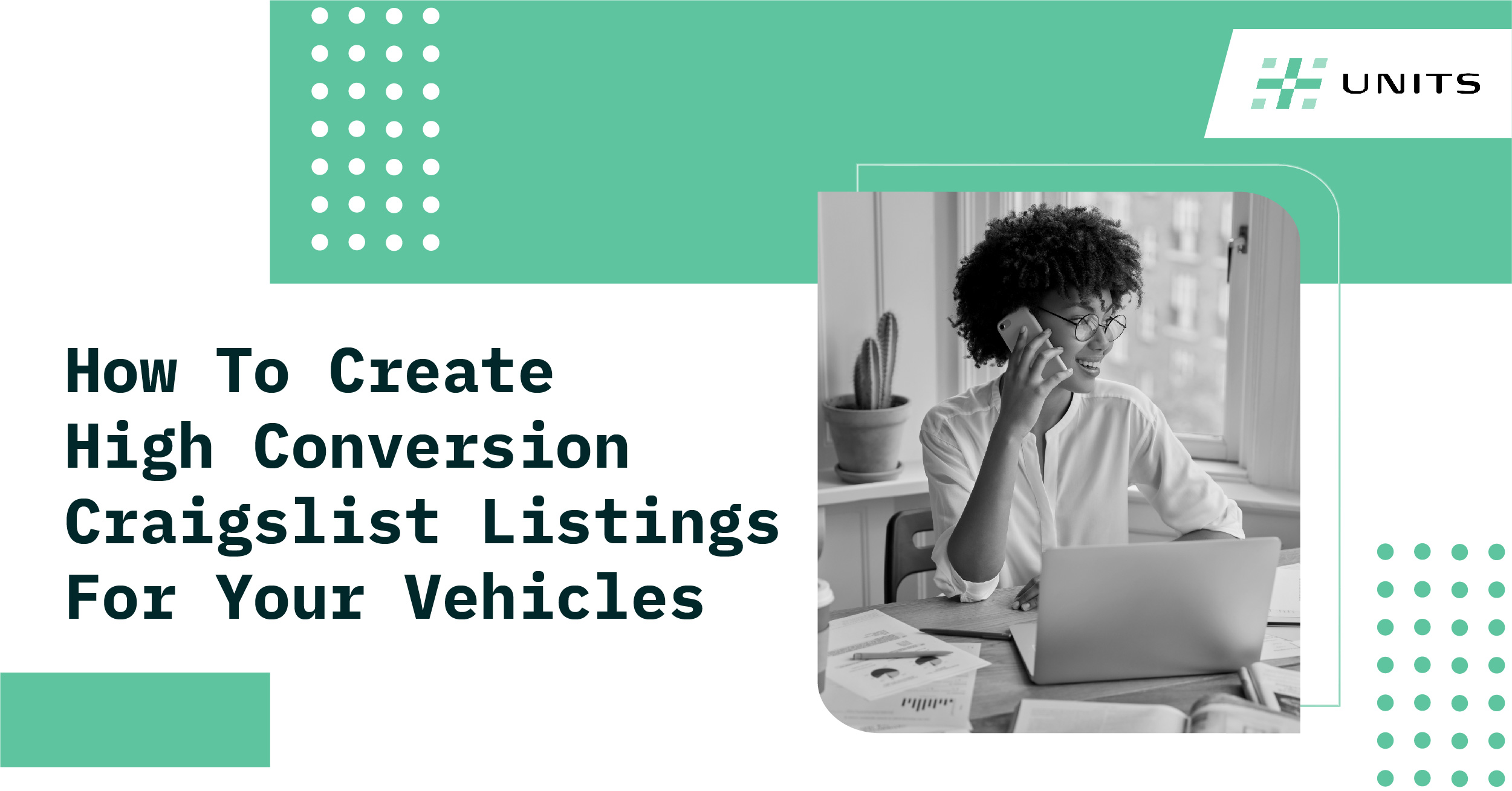 The use of third-party platforms for auto dealers has only increased with the need to reach customers where they are online. Over the last decade, Craigslist has been one of the most effective platforms for vehicle lead generation, especially those listed under $20K.
Craigslist is attractive to customers who are looking for a car dealer. Some dealers have begun to take advantage of this with new car ads on the platform. Many brands even have vehicles that qualify being listed under $20K, once rebates and other discounts are applied to the MSRP.
What Can the Units Craigslist System Do for You?
With Units, dealers can take advantage of a number of benefits to simplify and make the most out of vehicle listings on Craigslist.
First: Units gives you the ability to select inventory that fits the criteria of the shopper you are looking for on Craigslist. Set a rule to post only vehicles under the common $20K listing (or another desired amount).
Second: Units also gives you the ability to track calls, emails, and texts in regard to your leads. 
All calls can be recorded, giving you the chance to keep your sales team trained on their responses. Listen in on how your team responds to leads and customer contacts. 

Emails can be responded to directly or from the CRM. Units offers email routing to text or ADF email format. 

Texting is also an increasingly preferred method of contact and with Units, you and your team can engage directly with customers over text messages.
Third: Units is user friendly and gives you the ability to post your vehicles quickly and efficiently. The system lets dealers adjust prices, vehicle comments, keywords, and even the title of the ad on Craigslist. Many dealers love to dress up their titles on Craigslist, as seen here:
Fourth: Units can produce fully VIN-decoded options, as well as installed packages and full-size image displays. Product information and photos are vital to getting customer attention. With more people moving online to make their buying decisions, it is important to offer as much information upfront as possible. In addition, the Units system also includes first image overlays with key installed options of the vehicle. 
Fifth: Units inventory also integrates with other inventory providers, such as HomeNet and Inventory+. Units can also pull pricing details from vAuto via API.
Tips to Help You with Craigslist Vehicle Listings
Units can help auto dealers simplify inventory listings at each step of the process. However, there are also additional tips to help you make the most out of your listings on Craigslist.
The title of the vehicle should include both a call-to-action and as much information about the vehicle as possible.

Quality HD photos are a must. Show your vehicles looking their best so that you can make a good impression on buyers. Do not sacrifice quality to worry about things like time-to-site when the presentation of your vehicle can make a lasting impression on a buyer. 

Dealer name and a call-to-action included with additional title keywording helps improve search results.

Include dealer name keywording with some make and model information.

Include make, model, and trim keywording. This is a must with Craigslist ads.

Make sure to include contact information such as the dealership name, website, phone number, and physical address. This information should be repeated not just for the customer but to assist with search results as well.

Note dealership website information and include a custom link asking the customer to copy/paste the URL (Craigslist does not allow for embedded hyperlinks).

Offer current pricing for your vehicles. Units can deliver pricing via API, so prices can update in near real time.

Include general information about the vehicle listed: year, make, model, trim, body style, engine and transmission, mileage, as well as stock number and VIN number.

Key options displayed on the vehicle images, like Units offers with image overlays, lets dealers show customers what the vehicle includes on both Craigslist search result pages and vehicle detail pages.

Use VIN decoding to list out options for your vehicles. This can include exterior, interior, mechanical, and safety options. Units can also include installed packages for the vehicle with provided package codes.

Units helps streamline the posting process with bolded and added characters that help improve search results by giving Craigslist data the way the platform likes to receive it.

Vehicle comments are also important in giving your customers the information they need to make their buying decision on your vehicle. Tell customers why they should choose your vehicle listing and dealership. Vehicle comments can  offer dealers a chance to detail warranty or financing options that may be available with the vehicle.

Units provides Craigslist compliant and state complaint ads with up-to-date disclaimers on every ad produced by our system. Units also lists our company name at the bottom of each ad, as we deliver the most effective and compliant vehicle ads on Craigslist.

Units  provides dealer locations to Craigslist so that the platform can pinpoint a map on each ad.

Units delivers required vehicle information as mentioned above, which is why our ads are visible on the Craigslist platform.
For additional information on the capabilities of the Units, please reach out to our team by filling out the form below!