Facebook Marketplace is making major changes to how automotive dealers can showcase inventory on the platform. Be prepared for how this change may affect your listings and merchandising process. Starting on September 13, 2021, Facebook Marketplace will no longer distribute vehicle listings from automated catalog feeds. These provided listings will not be displayed on the platform, and include homepages, search results, browsing experiences, and catalog pages.
Read more about the changes here: https://www.facebook.com/business/help/442276120199473
How Will Facebook Marketplace Vehicle Listings Changes Affect My Dealership?
This policy change from Facebook certainly creates some challenges. However, while this change means that dealers can no longer use software or other services to bulk upload inventory to Facebook Marketplace, Units does have solutions to help make this policy transition a smooth one.
Ensure that you still get your vehicle inventory out to the Facebook audience with the opportunities the platform now allows you to take advantage of.
Here is how Units Inventory can help:
Facebook Marketplace Manual Vehicle Listings
While the platform may be discontinuing automated posting via catalog feeds for your vehicle inventory, you still have the option of posting vehicles to the platform manually. This process will take longer, requiring each vehicle to be added one at a time, however, this allows dealers to really dig into each vehicle's value and post with granular strategy.
Focus on your high value inventory or vehicles that tend to generate a lot of interested buzz. Is your dealership best known for trucks and SUVs? Or are hybrids and electric vehicles drawing more customers to your dealership? With manual postings, you can give more attention to the vehicles that get you more attention.
Facebook Business Page Tabs for Showroom Creation and Management – Inventory Tab
Facebook business pages have the option to add page tabs, which can work as an easy solution to these Facebook Marketplace changes. With the ability to add an Inventory or Vehicles tab, you can create a digital showroom for your Facebook audience.
With this page tab set up for your inventory, Facebook buyers can browse and have quick access to chat with you about their interests or questions on your selection. This feature also allows you to create manual vehicle listings from the page tab.
In addition, Units can help you make this set-up process easier with a tool to post your inventory automatically to the Vehicle tab. You can also link Facebook chat to leads on your CRM, which allows them to be managed with the platform you already use, including the creation of customer records!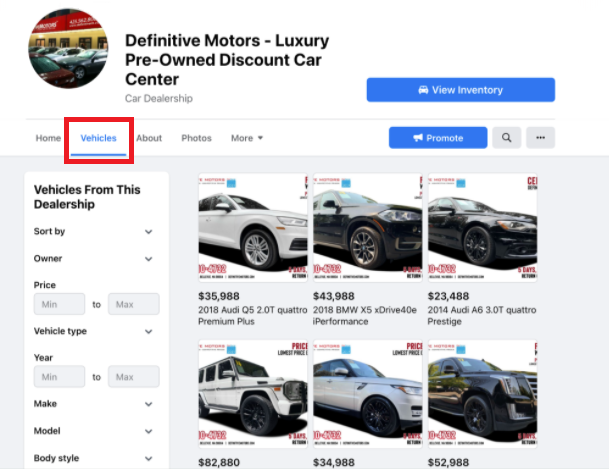 Dynamic Automotive Inventory Ads on Facebook – Sponsored Ads
Automotive Inventory Ads are another offering from Facebook that can help dealers to showcase vehicle inventory. AIA, or Automotive Inventory Ads, are sponsored ads on Facebook with dynamic features that allow you to target active shoppers on the platform. Pull offers, images, and vehicle descriptions from your existing inventory feed to create ads for Facebook Marketplace, user News Feeds, and other associated platforms, such as Instagram!
Dynamic AIA gives dealers the opportunity to make the most out of Facebook Marketplace changes with control over ad content and superior placement on Facebook platforms. Automotive Inventory Ads even allow Facebook buyers to submit leads that directly connect to your CRM. Follow the inventory that buyers are interested in and engage customers where they already are online.
Units is here to help dealers through these platform changes to make the most out of Facebook merchandising and advertising. Our team has years of collective experience in digital marketing, and we are here for you! We will continue to work with Facebook and similar platforms to ensure smooth processes with major changes. Find out more about the solutions we can offer to help you harness the power of your marketing.