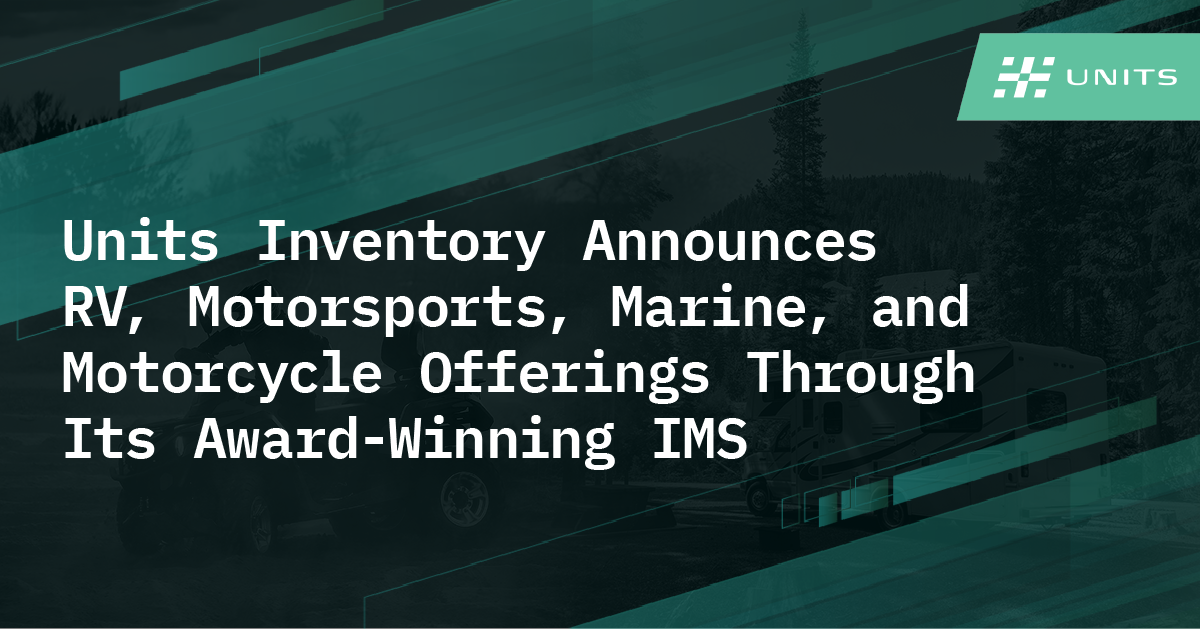 FOR IMMEDIATE RELEASE: 
Units Inventory is proud to announce integration specifically for RV, Motorsports, Marine, and Motorcycle dealerships. Along with the many innovative features that have made Units Inventory an industry leader, new features have been added to target the unique needs of dealers who stock all types of recreational vehicles. 
Units Inventory makes it easy for dealers to showcase all their RV, Motorsports, Marine, and Motorcycle in one streamlined inventory management system (IMS). Dealers can enhance their vehicle images with a wide range of photo editing options that include custom hot spots, overlays, and more. High-quality images are essential, making the ability to upload 4K images of a dealer's RV, boat, or motorcycle an important element. Going above and beyond the traditional vehicle photos are features such as video with voice-over specific to RV, video exports, and 360-degree presentation for the interior and exterior. Online shoppers want to be presented with all of the information upfront, which is where up-to-date vehicle floor plans and window sticker modules come into action. 
When it comes to making sure that a potential customer sees a dealer's vehicle listing, Units Inventory is the answer. With RV Trader Integration, unlimited syndication to all RV 3rd party sites, and fully vin-decoded Craigslist ads, as well as the dealer's website SRP, maximum visibility can be achieved using one tool.
The Units Inventory platform dashboard is streamlined and allows for bulk additions with Price Casting and Data Transfer or editing each inventory listing individually. Dealers can create to-do alerts, access their in-progress or wholesale database, and view templates to save time when uploading new RVs, motorcycles, or boats. As trade-ins become increasingly valuable, integrations such as RV Trade and EAuto Trade Tool allow dealers to see what kind of vehicles their customers have while the customer gets the benefit of an estimated value offer. 
For a full demo of all of the features that RV and motorsport dealerships can have at their fingertips with Units Inventory, please contact the Units Inventory team by filling out the form below. 
About Units Inventory
Units Inventory is the industry leader in automotive inventory management.  Units Inventory offers a fully comprehensive system with a full inventory management system, market price vehicle pricing tool, inventory exports, image and video management, data blending, comment builder, and more. Units Inventory has offices in Arizona, Illinois, and Washington state. You can learn more about Units Inventory on their website: www.unitsinventory.com