Eye-catching vehicle differentiators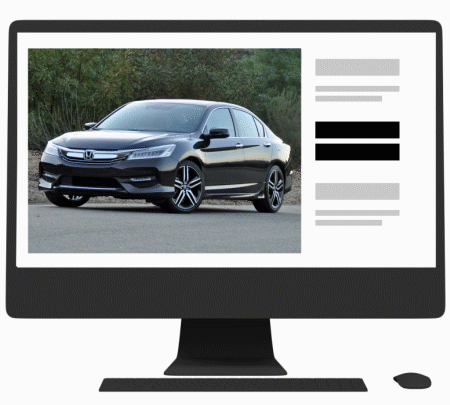 Units inventory system is one-of-a-kind when it comes to customizing a dealership's inventory! You can use the system to add custom overlays, Hot Spots, and custom images in the dealer photo display. The best way to get the consumer's attention is by displaying offers in the vehicle's photo gallery. Why? Well, the first thing a consumer wants to see is what they are truly shopping for. Vehicle images are the most important item on the entire website.
When it comes to delivering a good message to the consumer, the vehicle's photos are the best place to deliver it! Adding a Custom Overlay to the vehicle's photo run is a great way to present information or any deals about the vehicle. When a vehicle has been customized,  you can let the consumer know by applying an overlay that states the vehicle has been customized in some way. You can even add a value or a range, so the customer understands why the price is higher. Sites like Car Gurus usually don't take these accessories into consideration when deciding whether or not a vehicle is a fair, good, or great deal.  So, when the consumer sees the overlay, they can easily identify that the vehicle has been customized and that's why the price may be higher.
What's more satisfying than knowing a vehicle has a warranty on it? Letting the consumer visually see this has always been best practice, so adding content to the overlay and applying it to the first image is a must. A dealer can use the Units overlay system to apply warranty information to specifically to vehicles that qualify for them. Units can target the miles, year, make, model even the trim of the vehicle.
When a consumer is shopping, making their experience a seamless one and presenting them with all the information at their figure tips is important. Adding Hotspots to your photos can give the consumer all the key information at their fingertips. With Hot Spots on the photos you can provide information like installed options, leg room, trunk space, incentive data, vehicle brochures, and much more.
For more information about the above features and the Units system, please reach out to the team at Units Inventory. 
Schedule Personalized Demo
Steven Warren
Director of Inventory